by Cassia Sparkle, Mon Sep 14, 2009 12:12 pm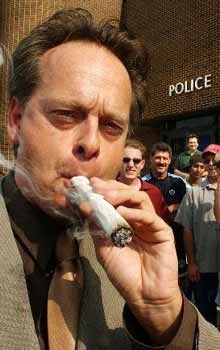 Marc Scott Emery is a Canadian Cannabis activist, aswell as a former canadian cannabis seed seller. The USA government officials have described him as a drug dealers for his efforts to sell Marijuana seeds nationally and abroad. He is also the publisher of Cannabis Culture a canadian magazine. He ran for mayor for the city of Vancouver in 1996, 2002 and 2008.
The prince of pot is in trouble! Marc currently faces extradition to the USA in January 14th 2008, Emery agreed to a tentative plea- bargain with the U.S authorities. Terms of agreement settled to a five year prison sentence to be served in both canadian AND U.S prisons, in return Marc requested that the charges against his friends Michelle Rainey and Greg Williams be dropped.
Marc was also an active member of the Marijuana Party of Canada, a political party running to fully legalize not just decriminalize, cannabis. He also helped found the British Columbia Marijuana Party, which he currently leads.
Please phone (613) 957-4222 to tell the Canadian Minister of Justice it would be "cruel and unjust", and an insult to Canada's sovereignty, to extradite Canadians Marc Emery, Michelle Rainey and Greg Williams to the United States to face life in US prison.

Join us Saturday September 22nd , in telling the American government to get the DEA out of Canada, and stop the spread of their wasteful drug war!

Your encouraged to make signs AND to bring drums.
more